Reigning BRAVE bantamweight champion Stephen Loman and challenger Elias Boudegzdame together with other fighters lit up the passionate crowd with their open workout, showcasing their mixed martial arts skills and what people can expect from Brave 22: Storm of Warriors on Wednesday at Newport Mall, located at Resorts World Manila.
As expected, the Filipino fighters received the greatest applause. Loman was one of the most celebrated fighters by the fans, as well as Jeremy Pacatiw, who takes on countryman Marc Alcoba. The foreigners, represented by Ireland's Cian Cowley, New Zealand's John Brewin and Pakistan's Mehmosh Raza, were also in attendance and were well received by the crowd. When their workout was done, the promotion organized the first staredowns of fight week.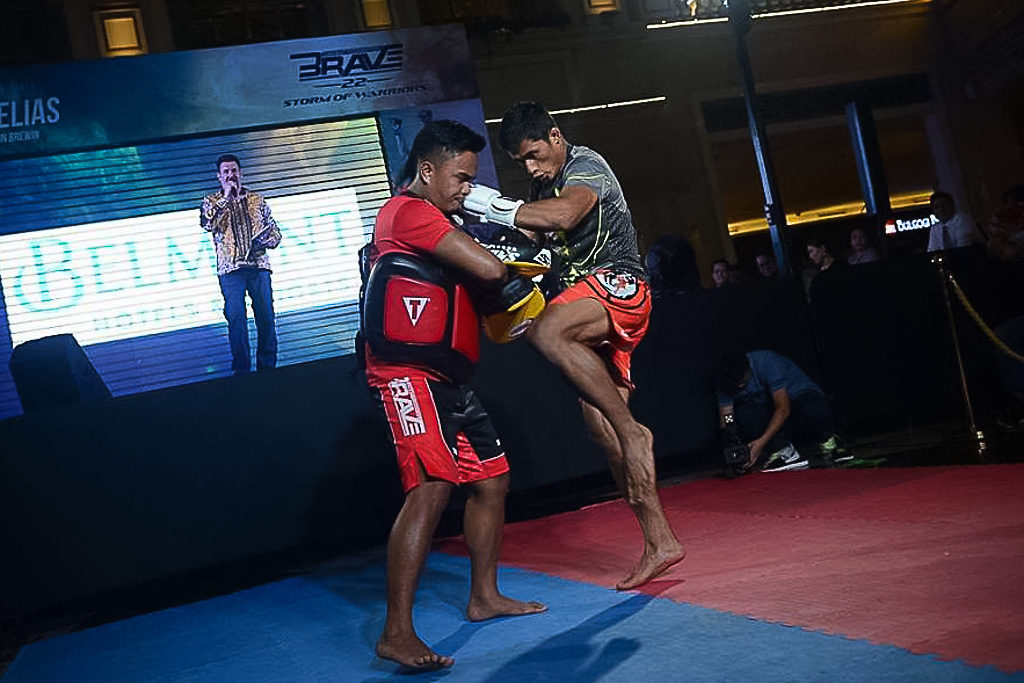 After the open workouts, the athletes sat down with Brave CF commentator Kirik Jenness at the helm, to answer fan and media questions. Title challenger Elias Boudegzdame was the only one missing from the fighters who did the early open workouts. Philippines' own Rolando Dy lit up the crowd when talking about the pride he feels in representing his own country at Brave.
"I'll be honest, I was always an average student, I got my college degree because I had to. I was an average basketball player and an awful dancer. Fighting is what I really know, it's what I love. Being able to be here and representing my country, back to Brave, it's amazing", said Dy, who takes on dangerous Mehmosh Raza in a Featherweight bout in the main card.
John Brewin, who co-headlines the card against Cian Cowley, was one of the fighters to get emotional after talking about what it meant to fight in Manila and promised to put on a show for the Filipino fans.
"I'm living the dream, two years ago I was here in Manila, cornering one of my good friends and teammate at Bali MMA. I thought "One day I'll get back here for my own fight", I never thought it'd be so fast, though. I went from all kinds of temporary jobs to co-headlining a card in Manila. I know a lot of people say that their stories are all about struggle and overcoming but that's nothing but the truth in my case. I live for fighting, I'm here to put on a show and I'll fight until my last breath", promised Brewin.
Follow the writer on Twitter: @burnsports