15 April 2019
Jr. NBA Philippines presented by Alaska returned for the second consecutive year to Fr. Saturnino Urios University in Butuan City on April 13-14 and identified six boys and three girls to represent Mindanao at the National Training Camp in Metro Manila.
The Jr. NBA Philippines Regional Selection Camp, led by Coach Carlos Barroca of the NBA and former PBA players Tony dela Cruz and Willie Miller, hosted more than 500 campers, with the selected athletes excelling in a series of basketball activities and competition and exemplifying the core S.T.A.R. values of the game throughout the camp. They will advance to the National Training Camp on May 17-19 and join the best young athletes from the Regional Selection Camps and a select Alaska Power Camp group to vie to be named part of the 2019 Jr. NBA Philippines All-Star team.
"If they get in shape because they play very intense, then they have their chances. They have good quality, I think we were lucky we chose six good all-stars from the boy's side and three on the girl's side. They have their chances," said Coach Carlos. "The way that they're going to work from now to the day of the NTC is going to be really important. I told them that they need to work and get in better shape. So, it's up to them now."
The Jr. NBA Philippines All-Stars—comprised of as many as five boys and five girls—will join the first Jr. NBA Global Championship Asia Pacific Selection Camp, a week-long camp in June that includes top youth players from the Asia-Pacific region excluding China.
In addition, the Asia-Pacific regional competition will form a team of 10 boys and 10 girls that will represent the region at the Jr. NBA Global Championship on Aug. 6-11 at ESPN Wide World of Sports Complex at Walt Disney World near Orlando, Florida. The international event will showcase talented youth from the United States, Canada, Latin America, Europe, the Middle East, China, Mexico, Africa, India and the Asia-Pacific.
Boys and girls aged 10-14 years old can still join the last Jr. NBA Philippines Regional Selection Camp this year in Metro Manila on April 27-28 by registering at www.jrnba.asia/philippines.
The following is a complete list of participants selected from the Jr. NBA Philippines Benguet Regional Selection Camp advancing to the Jr. NBA Philippines National Training Camp: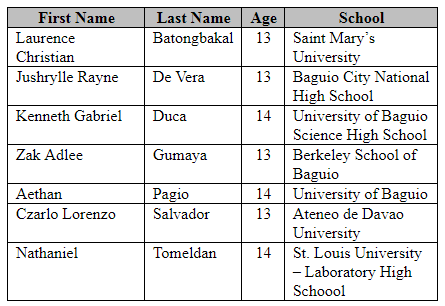 Follow the writer on Twitter: @burnsports