30 June 2018
By Niel Victor Masoy
In the battle between the UAAP and the NCAA champions, it was the former who prevailed as the Ateneo De Manila University Blue Eagles tamed the San Beda University Red Lions 76-62 to sweep and clinch the championship of the 2018 Chooks-to-Go Filoil Flying V Preseason Cup Saturday at the Filoil Flying V Centre in San Juan City.
Angelo Kouame had a dominant outing for the Blue Eagles, finishing with 15 points, 16 rebounds, and three blocks in a game which Ateneo controlled right from the tipoff all the way up until the final buzzer.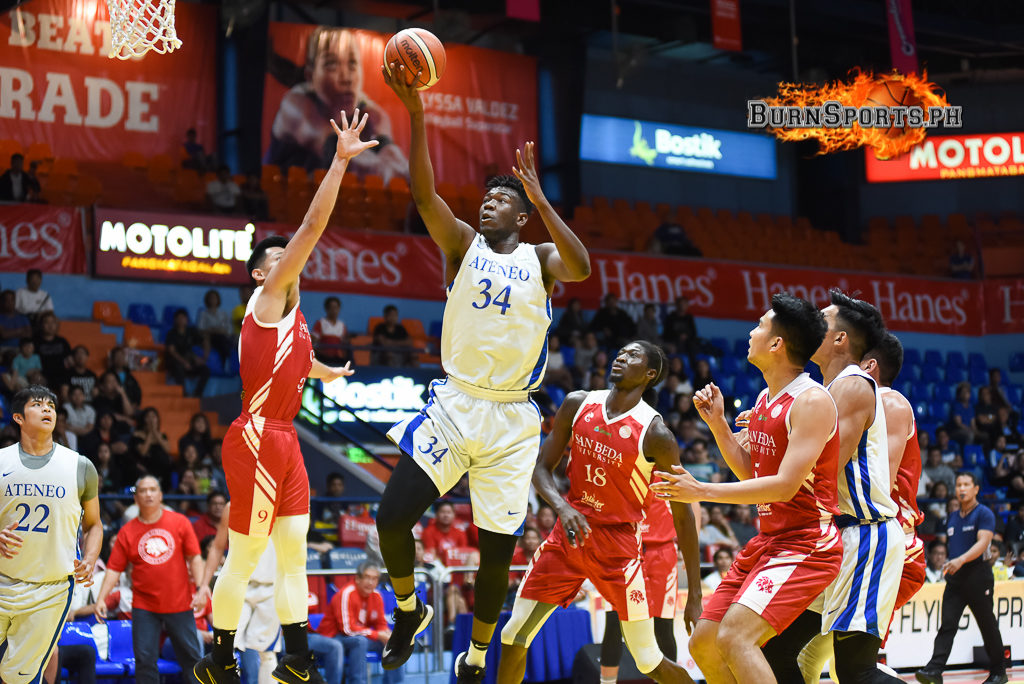 The Katipunan-based squad started strong in the opening canto, building a nine-point lead, 15-6, halfway through the quarter. San Beda, though, roared back with a 9-4 run to keep within striking distance, 19-15, after the game's first 12 minutes.
But in the second quarter, it was a totally different story as Ateneo relied on their suffocating defense and accurate outside sniping to break loose from San Beda and blitz the Red Lions with a 26-11 run, finishing the first half with a commanding 19-point lead, 45-26.
Ateneo then continued to roll in the third frame, leading by as big as 21 points, 47-26, and staving off any uprising by the Red Lions from Mendiola. In the quarter's last three minutes, though, the NCAA champs found some rhythm to trim down Ateneo's lead to 14 points, 56-42, after the third quarter thanks to the valiant effort of Franz Abunda who gave San Beda multiple scoring opportunities through his hustle plays and offensive boards.
In the final canto, San Beda unleashed their last stand, cutting Ateneo's lead 70-59 after a fast break finish by Evan Nelle with two minutes left on the ball game. But after which, it was all Ateneo again as Raffy Verano drilled a triple to extend the UAAP champs' lead to 14 points before Kouame blocked Tankoua's shot in the ensuing play that basically killed any semblance of hope left in San Beda.
Jolo Mendoza and Raffy Verano backstopped Kouame as both players had nine points apiece in the win while SJ Belangel and Thirdy Ravena contributed seven points each for Ateneo.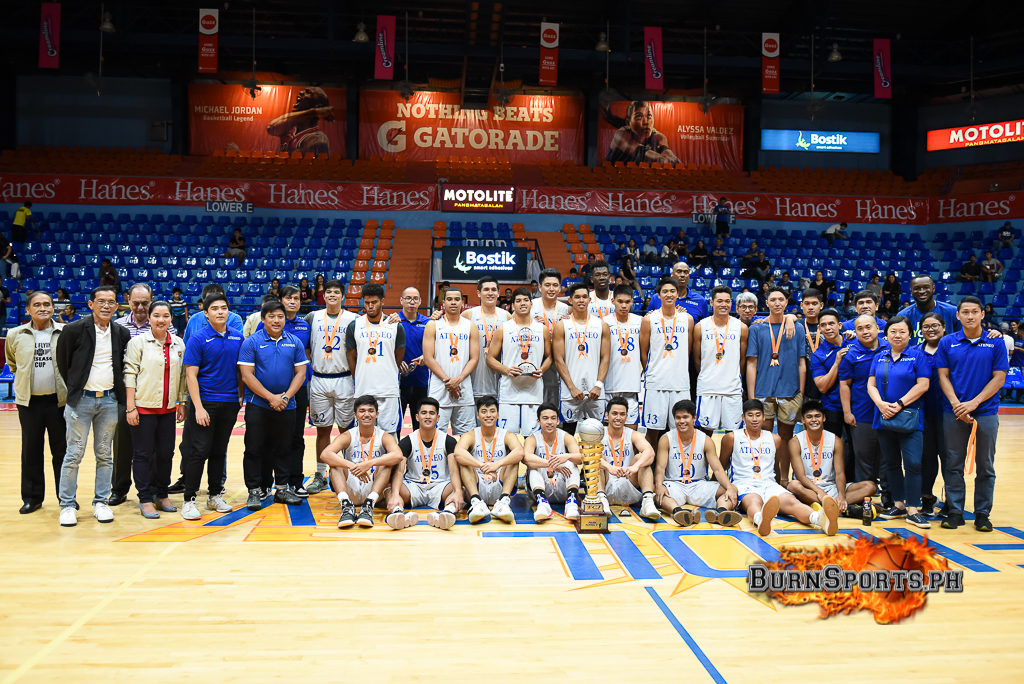 Meanwhile, Javee Mocon led San Beda with 14 points and 12 boards while Donald Tankoua chipped in 13 points, five rebounds, and two steals. Franz Abuda and James Canlas had nine and seven points, respectively, in a loss that saw the Red Lions' star Robert Bolick went scoreless after playing 10 minutes only.
PHOTO GALLERY
at https://www.facebook.com/Burnsports/
BOX SCORES
FINALS
ATENEO 76 – Kouame 15, Mendoza 9, Verano 9, Ravena 7, Belangel 7, Nieto Mi 6, Asistio 6, Go 6, Mamuyac 5, Navarro 3, Maagdenberg 3, Nieto Ma 0, Tio 0, Wong 0, Black 0, Andrade 0
SAN BEDA 62 – Mocon 14, Tankoua 13, Abuda 9, Canlas 7, Doliguez 6, Nelle 5, Cabanag 4, Oftana 2, Carino 2, Tongco 0, Bolick 0, Eugene 0, Cuntapay 0, Burri 0
QUARTER SCORES: 19-15, 45-26, 56-42, 76-62
Follow the writer on Twitter: @mambaniel24