20 November 2019
By Maxine Louise Lagman
MANILA, Philippines – In front of more than 20,000 fans at the Mall of Asia Arena and thousands more watching in their homes, the Ateneo de Manila University made history after winning against the University of Santo Tomas, 86-79, in Game 2 of the finals to clinch the UAAP Season 82 men's basketball crown on Wednesday.
The Blue Eagles showed full dominance in the league, as they went for an immaculate 16-0 run, which also served as the first time a basketball team has achieved this.
Thirdy Ravena made it rain in Game 1 of the finals as they routed UST, 91-77, last Saturday, and now, with help of fellow teammates SJ Belangel and Matt Nieto, they swept the competition and clinched the championship crown for the third consecutive season.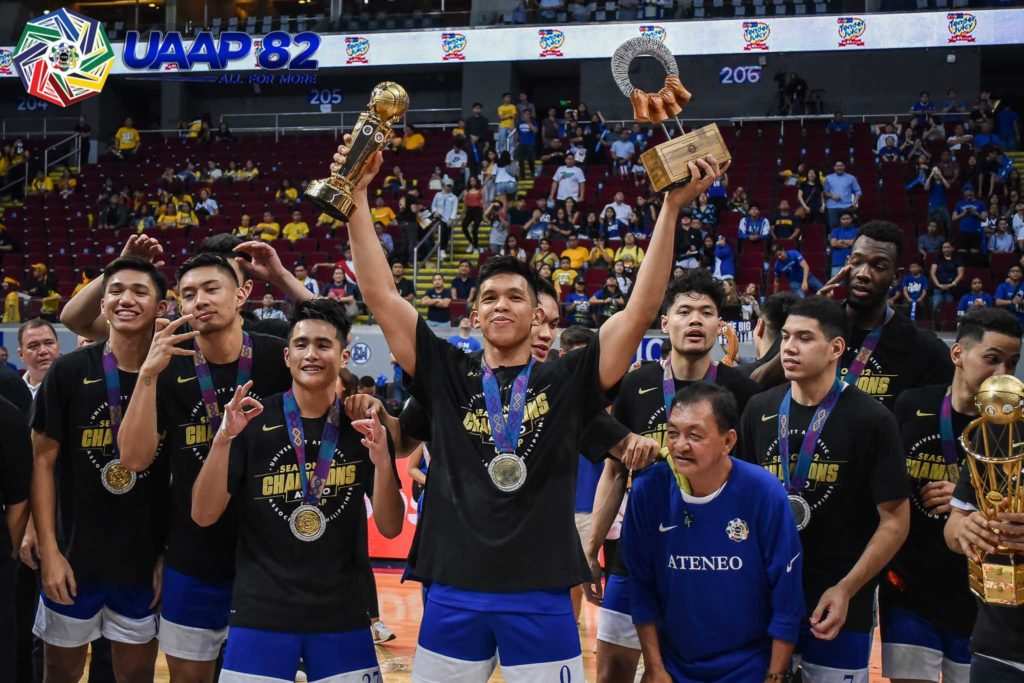 "The 16-0 season is really something that we dreamed about. We didn't talk a lot about it because we never wanted to set that as a goal," said Ateneo coach Tab Baldwin, who had been Ateneo's coach since 2016. "These men that I work with every day, they're more than just basketball players."
Ateneo was waxing hot from the get go, outscoring UST 31-18, and kept a 10-point advantage until the second quarter, 42-32.
But the Growling Tigers did not easily give the title up to Ateneo and never gave up. They cut the deficit to five in the third, thanks to the heroics of Rhenz Abando and Rookie of the Year Mark Nonoy, 67-62, and even made it into a one-point game early in the fourth period.
"It wasn't easier. It wasn't easy. It was extremely difficult and I think I've said enough times Aldin and his team they come at you hard," said Baldwin.
Baldwin and the rest of the Blue Eagles poured their admiration for UST still, as the Tigers even forced Ateneo to back-to-back turnovers in the final minute of the game. But, Ateneo had final possession of the game and Ravena threw the ball to the air as the buzzer went off and the sea of Eagles erupted into cheers.
"Masarap hindi dahil nanalo kami, masarap kasi we won it in a way na we were playing for one another," said Ravena. "It's an incredible feeling."
Ravena, the Nieto twins, Adrian Wong, and Isaac Go all graduate as champions.
Ravena finished with 17 points, seven rebounds, and five assists, while Belangel had a career-best of 15 markers on 5-of-10 shooting from behind the arc.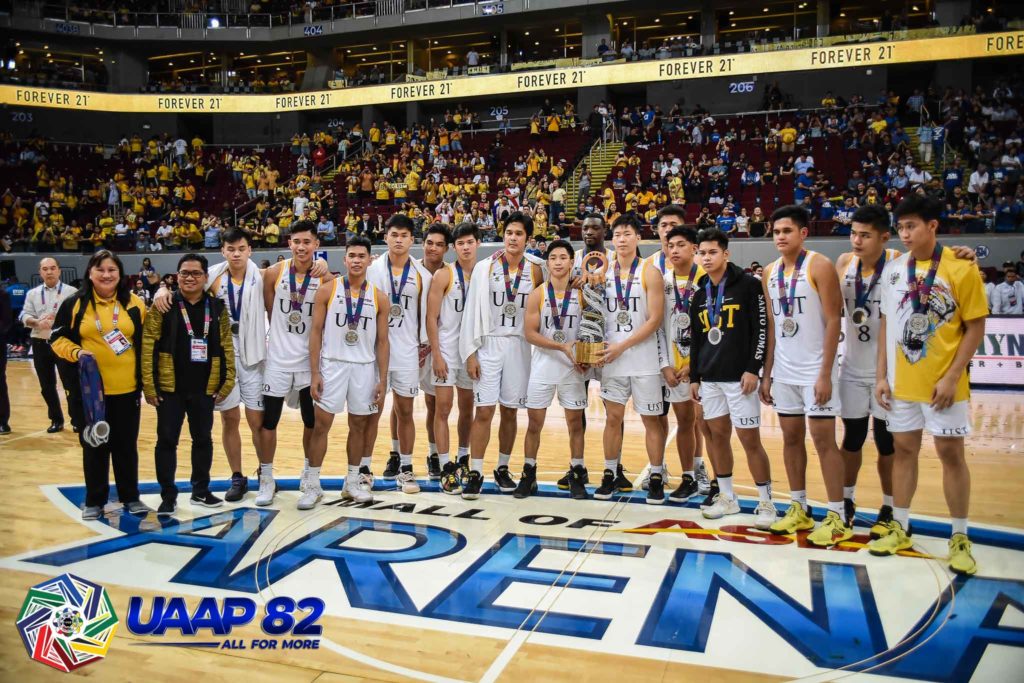 On the other hand, UST still had a tremendous game and a historic run as well. They returned to the Final 4 after missing it last year as the fourth seeded team. They beat Far Eastern University in the stepladder and swept twice-to-beat University of the Philippines in the stepladder semis to book their ticket in the Finals for the first time since 2015.
Abando paced the Tigers with 16 points, while Nonoy chipped in 14 markers and five assists. MVP Soulemane Chabi Yo had an 11-point, 19-rebound double-double.
"I appreciate all of them, and I respect them all so much," Baldwin continued of the Growling Tigers. "We certainly know what kind of team they're gonna be next year. They're gonna be an extremely strong basketball team."
Renzo Subido, Zachary Huang, and Enrique Caunan will be graduating from the team.
The Scores:
ATENEO 86 — Ravena 17, Belangel 14, Ma. Nieto 14, Kouame 7, Navarro 7, Go 6, Maagdenberg 6, Wong 5, Daves 4, Mi. Nieto 3, Mamuyac 2, Andrade 0.
UST 79 — Abando 16, Nonoy 14, Chabi Yo 11, Concepcion 8, Subido 8, Huang 7, Ando 6, Paraiso 5, Cansino 4, Bataller 0, Pangilinan 0.
Quarters: 31-18, 42-32, 67-62, 86-79.
Follow the writer on Twitter: @meanxi