By Jun Ray Navarres
Filipino veteran Jenel Lausa joined BRAVE Combat Federation's list of outstanding mix martial arts fighter after signing an exclusive multi-bout contract.
The Iloilo-native imprinted his name in MMA after winning the Pacific Xtreme Combat Flyweight Title by defeating Team Lakay's Crisanto Pitpitunge via split decision in 2016.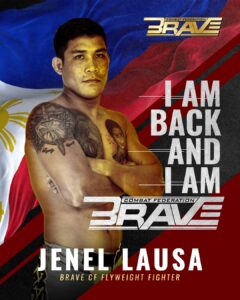 The "Demolition Man" followed up his streak with a win against China's Yao Zhikui in a one-sided fight under Ultimate Fighting Championship (UFC). However, three straight losses dropped Lausa's record to 7-5 and which eventually resulted into hiatus.
But the wait is over for Lausa's fans as he will make a return in the Bahrain-based promotion.
"Coming back to mixed martial arts is really something that I look forward to. I am very grateful for this opportunity, and I value the trust that BRAVE CF has given me," stated the 32-year-old fighter.
"I am excited to represent my country once again on the global stage of mixed martial arts, and it is with great pride that my return to the sport will take place under the banner of BRAVE CF."
Aside from MMA, Lausa has also made a name in boxing, scoring a untainted professional record of 10-0-1 including six knockouts. He was also a former Philippine Boxing Federation Super Bantamweight Champion and Global Boxing Organization Asia-Pacific Super Featherweight Champion.
Lausa is expected to make his promotional debut under BRAVE CF very soon.
Follow the writer on Twitter: @burnsports