ONE FC'S BRANDON VERA AND ANA JULATON ALL GEARED UP FOR WARRIOR'S WAY
28 November 2014
International MMA superstar Brandon Vera and world-renowned female boxer turned MMA fighter Ana Julaton are all geared up for ONE FC: WARRIOR'S WAY this December 5 at SM Arena.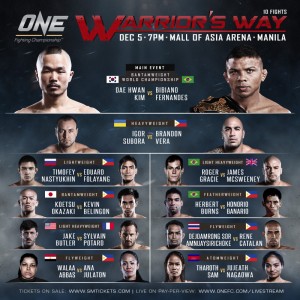 In preparation for this, both Vera and Julaton had joint training sessions at MP Training Club, located at Los Angeles, California. The two fighters were coached by Angelo Reyes and Ricky Lundell.
Brandon Vera made the trip to MP Training Club in Los Angeles, California to train alongside Ana Julaton and her long-time coach Angelo Reyes. Vera worked several rounds of boxing pad work with Reyes while doing several rounds of training with Julaton's training partners.
Reyes, who has more than a decade of experience as a boxing trainer was impressed with the skills that both of them displayed. He stated, "Ana Julaton is the Best Boxer in MMA today. To juggle two sports simultaneously is amazing to witness from such a humble and hardworking person. 2015 will be a Big Year for Ana as she has plans to win another World Boxing Title and also Challenge for the First Ever ONE FC female Belt".
According to Coach Reyes "Brandon is truly a gifted fighter. Right away I felt the power he has in his hands and with more Boxing training plus his superior Muay Thai skills and his excellent JiuJitsu, Brandon will become the ONE FC Heavyweight Champion very soon!"
Julaton and Vera are now set to travel to Manila later this week in anticipation of their upcoming bouts. Julaton will face Walaa Abbas in her return to compete in Manila for the second time, while Brandon Vera will make his ONE FC debut against URCC Champion Igor Subora. The duo is now set to represent the Philippines and show the power of the true Filipino warrior spirit!
Photo credit: MPTrainingClub.com
***
Tickets for ONE FC: WARRIOR'S WAY on 5 December in Manila are on sale now at SM Tickets (http://www.smtickets.com). Ticket categories begin with the full Red Carpet and cageside experience for VIPs at PHP 6,360 followed by Patron PHP 3,180, Lower Box PHP 1,280, Upper Box PHP 640 and General Admission PHP 220. Prices include ticketing fee. Pre-sale packages are currently available.
Follow the writer on Twitter: [social link="https://twitter.com/burnsports" icon="62218″]