By Ardyn Gonzales
The National University Lady Bulldogs pulled off another straight-set sweep over the De La Salle University Lady Spikers, 25-15, 25-15, 25-22, to win the championship in the UAAP Season 84 women's volleyball, Tuesday, at the Mall of Asia Arena in Pasay City. 
It was a much-awaited victory for NU as they ended the 65-year championship drought in women's volleyball dating back to 1957.
The National University Nazareth School standouts fulfilled their destined promise, with Michaela Belen, Alyssa Solomon, Ivy Lacsina, Sheena Toring, Lams Lamina, Cess Robles, and Jennifer Nierva continuing their dominance in the seniors division after clinching multiple championships back in high school.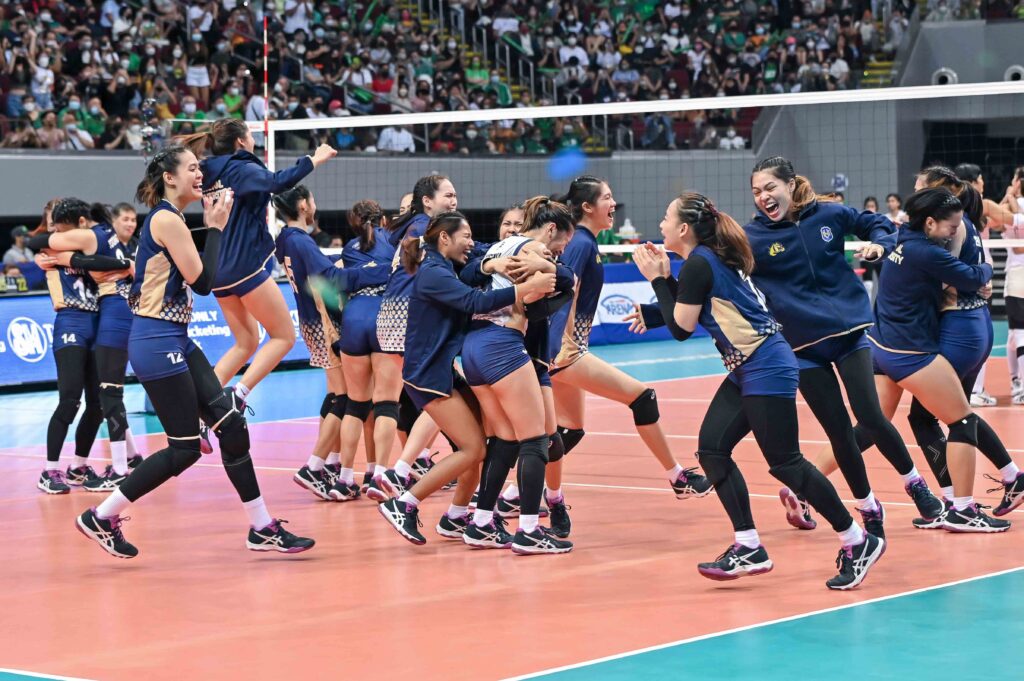 Down 17-20 in the third set, the Lady Bulldogs responded with a 7-0 counter run via the crucial double-substitution of NU to reach championship point.
Former NSNU team captain Erin Pangilinan provided the clutch points as the Lady Bulldogs prevented an extension. La Salle saved two match points, but an unfortunate service error from Thea Gagate sealed the victory for NU. 
NU displayed confidence and composure all throughout the match particularly in the opening frame where the Lady Spikers quickly built a 10-6 advantage. With Belen doing the damage in front, NU instantly turned things around with a 19-5 finish. 
Newly awarded Best Opposite Spiker Alyssa Solomon led the scoring duties for the Lady Bulldogs with 18 points, while the Rookie-Most Valuable Player Michaela Belen was not far behind with 16 markers. 
Best libero Jen Nierva chipped in 19 excellent digs and 10 excellent receptions, with their defense strengthened by the contribution of team captain Cess Robles who finished with 15 excellent digs, earning the Finals MVP plum. 
Just like in the Game 1, it was a total all-around dominating performance from NU as Best Setter Lams Lamina perfectly orchestrated their offense with 14 excellent sets, with Ivy Lacsina and 2nd Best Middle Blocker Sheena Toring combining for 11 markers. 
Similar to Game 1, La Salle spikers were held down to single-digit output, with Thea Gagate leading the Lady Spikers with just 8 markers followed by Leiah Malaluan with 7.
Follow the writer on Twitter: @sardynas