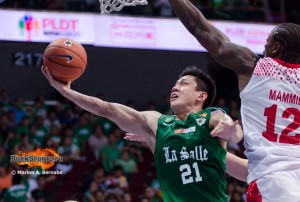 La Salle Comes from Behind to pull-off a win over UE
By Yanzi Eco
July 27, 2014
The DLSU Green Archers showed the UE Red Warriors their championship composure in a hard-fought game when they managed to take home the W in a 60-58 victory despite trailing most of the game to the grit-and-grind Red Warriors.
Defense has been the bottomline of the whole game. UE has been giving the Archers all kinds of problems on the defensive end with their full-court press being imposed by their coach Derrick Pumaren who has been the master of this defense in the past years. Ironically, Pumaren was the same person who coached DLSU back in the days when the Archers were also known for the same defense.
The hard-nosed basketball displayed by both teams resulted to foul troubles which resulted to Van Opstal, Perkins, Mammie, and Arafat fouling out in the final quarter.
DLSU had a total of 36 turnovers forced by the Red Warriors, but their performance in the 4th quarter made the difference. With the heroics of guys like Jeron Teng (18 points, 6 rebounds, and 4 assists), Norbert Torres (14 points, 14 rebounds), and rookie Prince Rivero (8 points, 5 rebounds, in 14 mins) , the Archers outscored UE 24-12 in the final canto to give them the win.
The scores:
DLSU (60) – Teng 18, N. Torres 14, Vosotros 12, Rivero 8, Van Opstal 5, Perkins 2, Tratter 1, Montalbo 0, Andrada 0, Bolick 0.
UE (58) – Sumang 16, Varilla 8, Mammie 8, Olayon 7, Galanza 5, Jumao-as 4, Alberto 4, Arafat 3, Javier 2, De Leon 1.
Quarterscores: 12-14; 26-28; 36-46; 60-58.
Follow the writer on Twitter: [social link="https://twitter.com/yanziboy_" icon="62218″]