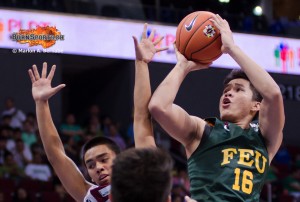 FEU Tamaraws slaughters UP Fighting Maroons for their second win of the season
By Yanzi Eco
July 27, 2014
After a heart-breaking loss to the UST Growling Tigers last week, the FEU Tamaraws bounced back in a blowout game over the UP Fighting Maroons 85-71.
The Tamaraws showed their dominance with a strong opening quarter led by Mike Tolomia who scored the first 10 points for the Tamaraws in a span of 3 minutes. Both teams had been shooting well in the opening minutes of the game where UP shot 53% of their shots while FEU with a stunning 80%.
The next quarters were all FEU with the Tamaraws showing their maturity and familiarity with each other with their passing, rotation and decision making. It was the other way around for the Maroons who had a game-low 4% field goals during the 3rd quarter.
Mike Tolomia finished with 18 points in 7/8 shooting, while Mac Belo posted 12 points and 9 rebounds to lead the Tamaraws bounce back and improves their record 2-1.
Despite the loss, the Maroons were led by JR Gallarza and Dave Moralde who had 18 and 14 points respectively.
The scores:
FEU (85) – Tolomia 18, Belo 12, Pogoy 11, Cruz 11, Hargrove 10, Dennison 7, Tamsi 4, Jose 4, Inigo 3, Denila 3, Delfinado 2, Ru. Escoto 0, Ri. Escoto 0, David 0, Ugsang 0, Lee Yu 0.
UP (71) – Gallarza 18, Moralde 14, Lao 10, Juruena 8, Amar 7, Asilum 6, Gingerich 3, Vito 3, Reyes 2, Dario 0, Lim 0, Harris 0. Quarterscores:28-21; 45-38; 70-46; 85-71.
Follow the writer on Twitter: [social link="https://twitter.com/yanziboy_" icon="62218″]