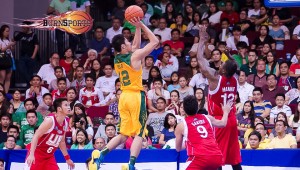 BATTLE OF THE EAST: FEU wins over UE despite Warriors' pesky defense
 By Yanzi Eco
July 30, 2014
The FEU Tamaraws seemed to be struggling against the gritty UE Red Warriors during the opening minutes of their game earlier.

UE, executing the Pumaren-patented full-court press, forced FEU to multiple turnovers—significantly in the opening minutes—wherein they only allowed the Tamaraws to only 12 points to end the first quarter.

It was the other way around in the next 3 quarters when the Tamaraws outplayed the Red Warriors and seemed to have found the right antidote to UE's defense with their teamwork and well-executed plays. There was even a point where FEU was the one who were already forcing the turnovers.

At the end, Coach Nash Racela's Tamaraws defeated the Derrick Pumaren-steered Red Warriors 73-63.

This is the 9th time FEU won over UE in the UAAP. The Warriors last win over the Tamaraws was dated back in the Final Four of Season 72 in 2009.
The scores:
FEU (73) – Belo 21, Hargrove 14, Tolomia 13, Cruz 7, Inigo 7, Pogoy 5, Jose 4, Dennison 2, Ru. Escoto 0, Denila 0.
UE (63) – Varilla 12, Galanza 11, Javier 8, Arafat 8, Sumang 7, Mammie 6, Alberto 5, Jumao-as 4, De Leon 2, Olayon 0.
Quarterscores: 12-22, 31-32, 52-49, 73-63.

Follow the writer on Twitter: [social link="https://twitter.com/yanziboy_" icon="62218″]