By Jun Ray Navarres
Jenel "The Demolition Man" Lausa will restart his professional MMA journey with a promotional debut at BRAVE CF 47: ASIAN DOMINATION against Afghanistan's Rahmatullah Yousufzai on March 11.
The 32-year-old Filipino stalwart will be strapping on his four-ounce gloves again after signing an exclusive multi-fight with BRAVE Combat Federation in February.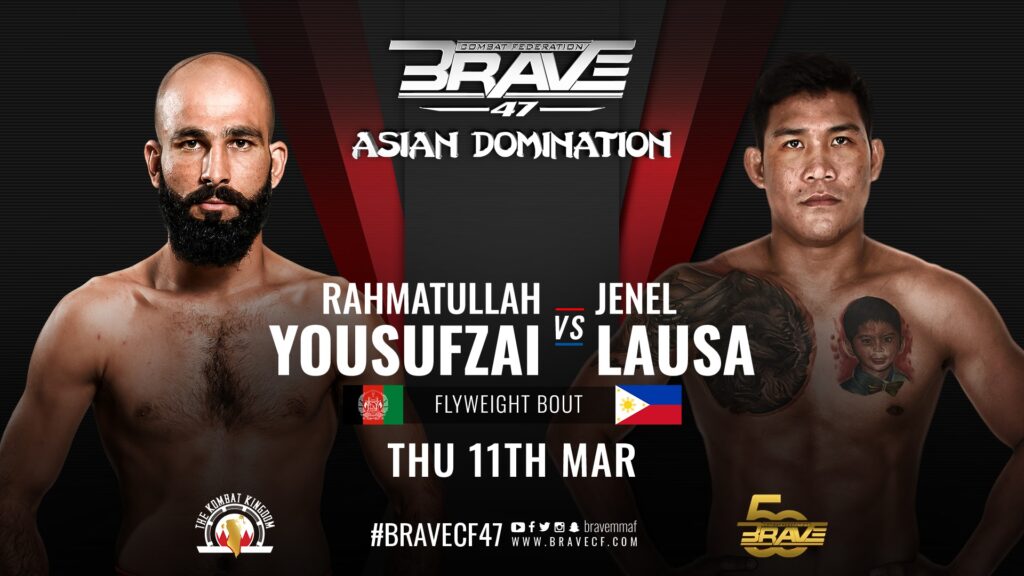 "The Demolition Man" suffered setbacks in the early years of his MMA career, bowing to a 1-3 professional record.
However, Lausa carried all the learnings he gained from the past and looks forward to redeeming himself.
"I believe this my second chance to prove myself in the mixed martial arts industry. This is also a chance for me to substantiate that I have definitely learned from my shortcomings in my past MMA fights," said Lausa.
Lausa last saw action inside the cage three years ago and spend most of the time inside the boxing ring but in his resurgence, he only wanted his name to be called as the better warrior at the end of the night.
"I aim to win my debut fight and the next fights after that. I dream to continue winning and bounce back from the setbacks that I experienced," expressed the Concepcion, Iloilo native.
"Being in the MMA world once again puts a big smile on my face. I am grateful for the opportunity that BRAVE CF has given me."
But Lausa will find it hard to bounce back as an undefeated Yousufzai stands in his way. The Afghan slugger has a clean slate of 4-0 with two fights not even reaching the final bell.
Lausa acknowledge the tall wall so he never failed to do his homework on Yousufzai.
"I have seen his fights and I have read articles about him. He is a good fighter," Lausa mentioned.
"We are both strikers, so he will probably strike with me. But at the same time, I don't want to underestimate his ground game, so I am also preparing for that aspect. With a winning streak like that, of course, I will have to double my efforts. It definitely motivates me."
Follow the writer on Twitter: @burnsports