28 June 2019
Manila, Philippines – An exciting season awaits running aspirants and professionals as leading beverage brand MILO today announced the launch of the 2019 National MILO Marathon. Building on the anticipation for the Philippine-hosted 30th Southeast Asian (SEA) Games, this year's marathon series will center on the theme, "One Team. One Nation. Go Philippines!" in support for the Filipino athletes competing in the prestigious biennial meet.
With its mission to promote nation-building in sports, MILO continues to champion sports and inspire excellence among Filipino athletes through its grassroots programs including the National MILO Marathon.
In partnership with the Philippine Athletics Track and Field Association (PATAFA), MILO will send six-time MILO Marathon Queen Mary Joy Tabal and MILO Marathon runner-up Jerald Zabala to the SEA Games and represent the country in the marathon event.
After the unfortunate demise of MILO Marathon King Rafael Poliquit, PATAFA has decided to give the slot to the runner that succeeded Poliquit in the 2018 National Finals. Zabala, who won second place, thereby gets outright slot for the SEA Games. Poliquit still retains his title as the 2018 MILO Marathon King.
National Finals in 2020
The new developments are expected to drive the number of runners in this year's marathon, with over 150,000 runners projected to join this season. The race will kick off in July in Metro Manila before shifting to other regional races across the country.
Subic Bay Freeport Zone is added in the list of regional legs, while Davao City returns in the lineup, making the National MILO Marathon accessible to running fans in Central Luzon and Mindanao.
For the first time, the National Finals will take place in January 2020 to make way for the SEA Games in November and December. The City of Tarlac has committed to host this season's grand finale in celebration of their annual KAISA Festival, the city's week-long fiesta, to provide a festive and cultural experience for all participating runners.
The 2020 National Finals will witness a fierce showdown between homegrown and international athletes as the Indonesian champions of the MILO 10KM run are set to take part in the grand finale. This unprecedented collaboration hopes to open more doors across MILO sports events in the region and also spark international interest in Philippine sports.
The race will kick off in Metro Manila on July 28, followed by Subic Bay Freeport Zone (August 4), Lucena (September 15), Batangas (September 22), Cebu (September 29), Iloilo (October 6), General Santos (October 13), Davao (October 20), Cagayan De Oro (November 17), and in Tarlac for the National Finals on January 19, 2020. The Urdaneta leg, originally set on July 14, will be postponed. MILO is closely coordinating with local government and race organizers to finalize the new race date and venue. Details will be announced once confirmed.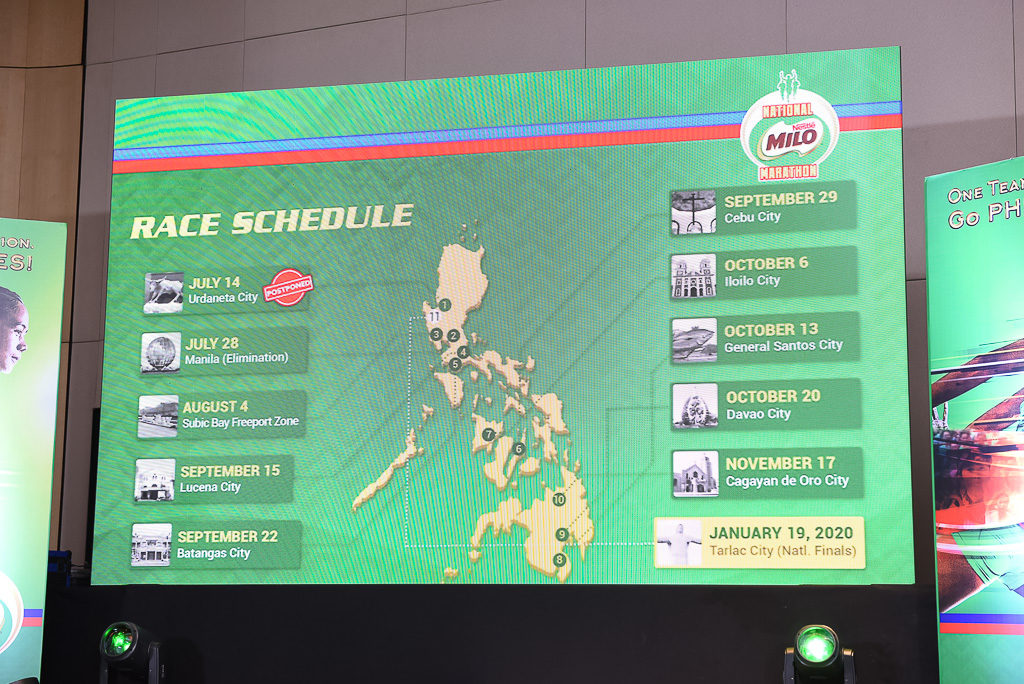 Follow the writer on Twitter: @burnsports