18 July 2019
By Maxine Louise Lagman
MANILA, Philippines – San Beda University continues to be on top of the food chain as they outlasted Emilio Aguinaldo College, 89-72, Thursday for Season 95's first NCAA on Tour at the General's Sports and Cultural Center in Manila.
The three-time champs were off to a slow start, 2-12 in the first quarter that led head coach Boyet Fernandez to call a timeout. From there, veteran James Canlas with Donald Tankoua led the squad towards an unstoppable 22-4 run to take a 24-16 advantage.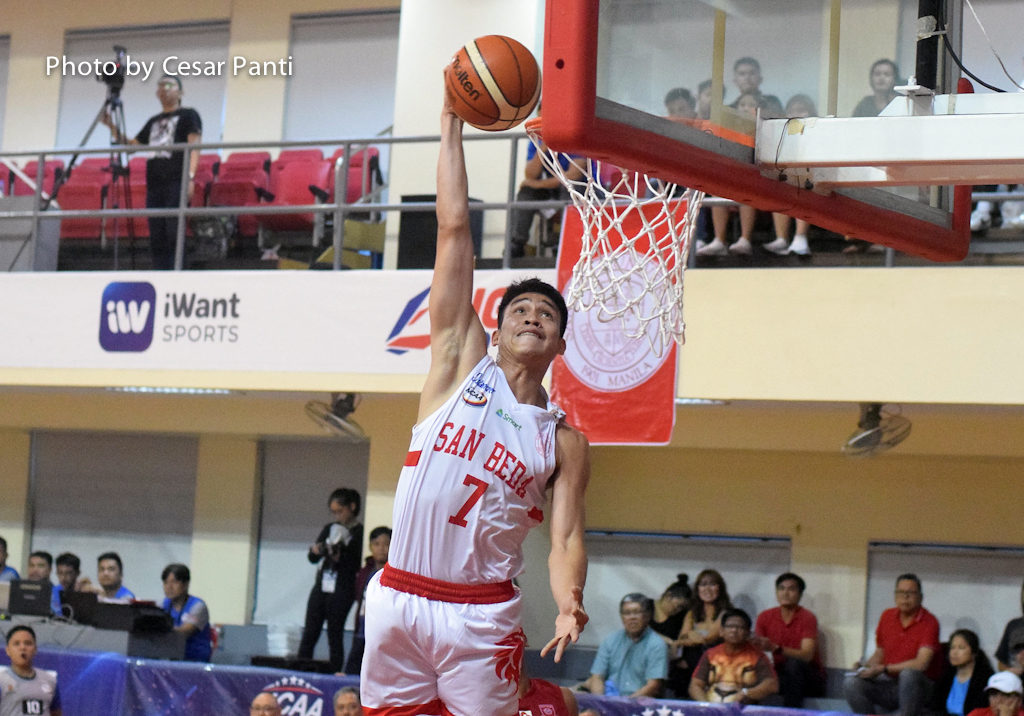 "We have to give credit to EAC, they really prepared well today and started strong," coach Fernandez said post-game.
First five Canlas, Tankoua, Evan Nelle, Calvin Oftana, and Clint Doliguez never looked back from there and outscored the Generals until the last seconds of the game, as much to the disappointment of the EAC crowd in their home court.
Canlas, who is only playing his second year with San Beda, proves to be an important part of the team as he fills in the shoes of the Red Lions' key losses – Robert Bolick and Javeen Mocon. He finished with 21 points on top of five rebounds and three assists.
Tankoua posted another double-double record of 13 points and 11 rebounds. Oftana and Doliguez added 14 and 10 markers, respectively, in the win.
Though his first five players did well on the court, coach Fernandez believes it only became an added challenge to his bench players, saying they "need to work on that" even more.
On the other hand, the Marwin Taywan topped EAC with 20 points, while Kriss Gurtiza had 15 markers, eight boards, and three assists as they dropped to a 1-2 win-loss record in the team standings.
The Scores:
SAN BEDA 89 – Canlas 21, Nelle 15, Oftana 14, Tankoua 13, Doliguez 10, Bahio 6, Abuda 5, Soberano 2, Carino 2, Cuntapay 1, Alfaro 0, Etrata 0, Obenza 0, Visser 0
EAC 72 – Taywan 20, Gurtiza 15, Maguliano 13, Mendoza 10, Luciano 7, Estacio 2, De Guzman 2, Dayrit 2, Carlos 1, Gonzales 0, Cadua 0, Boffa 0, Martin 0, Corilla 0
QUARTER SCORES: 24-16, 45-29, 71-45, 89-72
Follow the writer on Twitter: @meanxi