17 May 2019
By Maxine Louise Lagman
The sea of 'black-gold black-white' was silenced after witnessing the University of Santo Tomas' Golden Tigresses succumb to Ateneo De Manila University on the Game 2 of the Best-of-Three Finals at the University of Athletic Association of the Philippines Season 81 women's volleyball at the Mall of Asia Arena.
Will their bravado push them to make it to the top of the food chain this time 'round, or will they be defeated by the Lady Eagles and miss this year's crown?
From Cubs to Tigresses
In the UAAP volleyball history, UST was known to dominate the tournament.
The Tigresses had powerful line-ups that drove them towards back-to-back wins early in the 70's and in the late 80's. They nabbed three consecutive titles in Season 37 to 39, and seven straight championship crowns from Seasons 48 to 54.
They spiraled downwards in the following years, but a new generation of cubs came to life with Aiza Maizo, Denise Santiago, Angeli Tabaquero, Maika Ortiz, Judy An Caballejo, and Katrina Dimaculangan.
They brought back the crown to Espana in Seasons 69 and 72, but soon enough, they too served their time in the court and gave a new set of players the responsibility to continue the legacy. However, year after year, the Tigresses came back to the lair – defeated.
But now, after a nine-year Finals drought, the "Go USTe" chant is as loud as it could be as the sea of gold re-emerges from a slumber sleep.
Clawing their way back
Sisi Rondina dropped a "cherry bomb" that woke the Tigresses into action.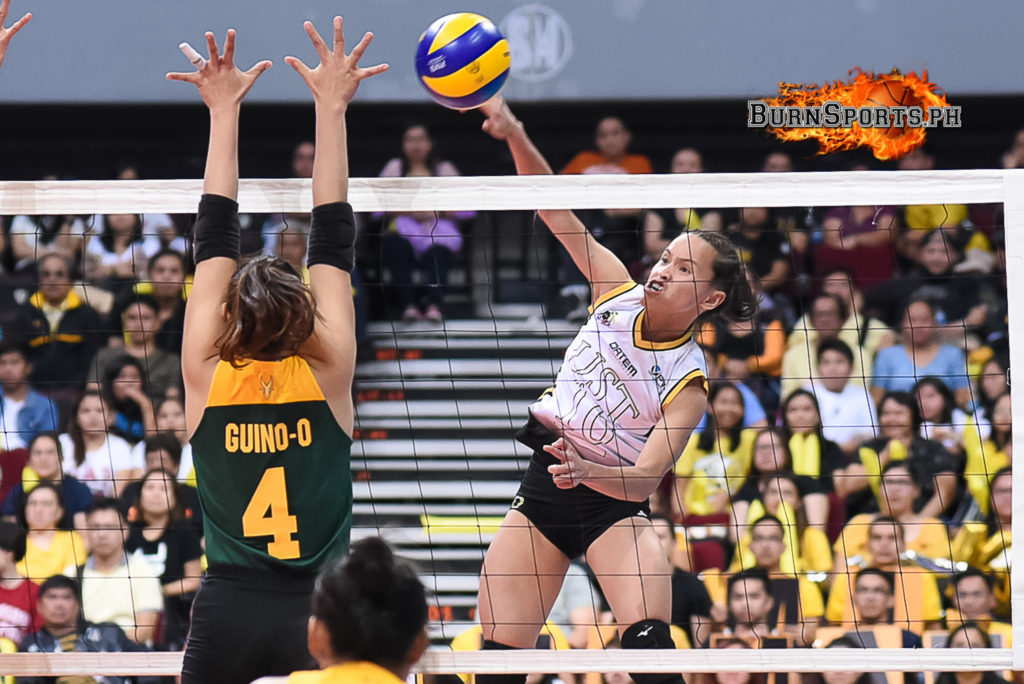 The graduating player had a solid collegiate career with four beach volleyball titles, four Most Valuable Player awards, and this year's MVP and second Best Open Spiker. She has been pushing her team towards greatness year after year, and tomorrow, they will be appearing on Game 3 "Do-or-Die" match against Ateneo at the Mall of Asia Arena.
Rondina exploded big numbers in Games 1 and 2 in the Finals, with 23 points and 22 points, respectively.
Compared to her previous playing years, Rondina have hardworking rookies to rely on this year. With Kecelyn Galdones, Ysa Jimenez, Rookie of the Year and Best Open Spiker Eya Laure and libero Janel Delerio, the Tigresses hopes to come back stronger in the final match.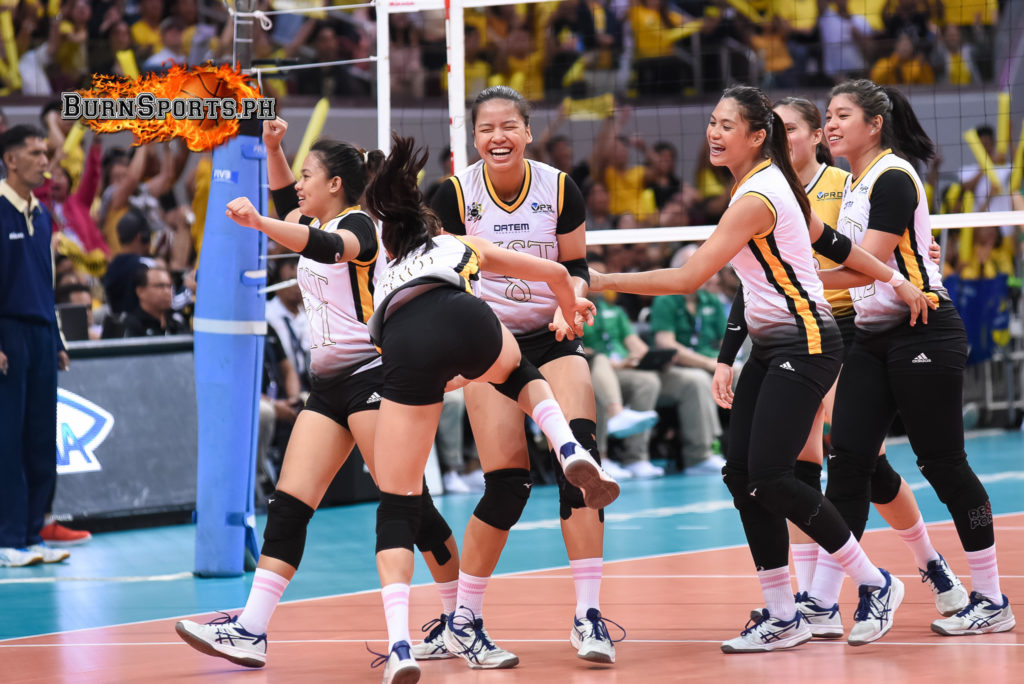 Though the Season 81's top rookie rolled her left ankle after landing on Kat Tolentino's foot at the start of the third set in Game 2, Laure came back in the latter part of the game and still finished strong with 10 points – second top scorer for UST in that game behind Rondina.
Though at pain, she says Thomasians may expect her to come back in the final match against the Lady Eagles.
What to expect
UST currently holds top spot in spiking with 31.06 percent and is at second place for number of aces per set. Meanwhile, Ateneo is at number one in blocking with 2.55 average of blocks per set, while they are at second place at setting and spiking with 7.35 and 27.93 percent, respectively.
In Game 1, UST swept three sets in what we may probably think was the shortest game in the Finals we could have ever imagined. In Game 2, Ateneo managed to come to their senses and showed their personality that we haven't seen in Game 1.
Now that they're at a 1-1 record, both teams are at common ground. The question is whether UST can redeem themselves in the final match, or will Ateneo continue its winning streak to hold on to the top spot?
As what Laure says after every heartbreaking loss, "Kapag nasusugatan ang tigre, mas lalong tumatapang."
Let's just hope the Tigresses hold on to that. Let the wounds bleed, but let it bleed black and gold.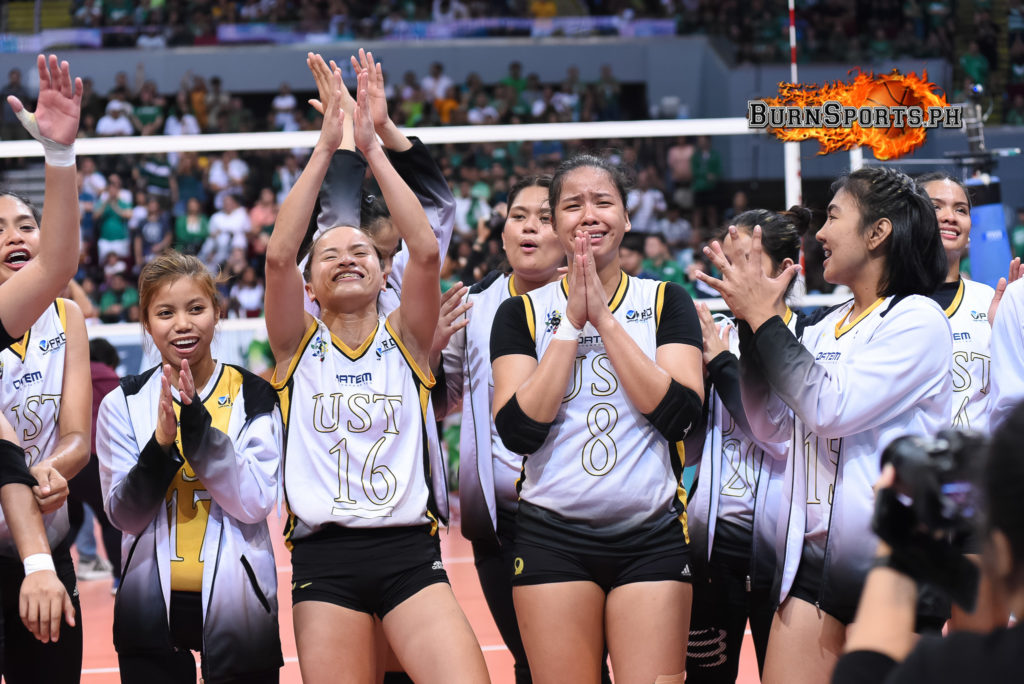 Follow the writer on Twitter: @meanxi