National University Pep Squad seeks a third straight cheerdance crown
2 October 2015
NATIONAL University Pep Squad seeks a third straight crown in the much-anticipated UAAP Season 78 cheerdance competition at 2 p.m. today before an expected full-house crowd at the Mall of Asia Arena.
From a perennial also-ran, the Bulldogs have been on a steady rise, finishing sixth four years ago, making it to the podium pofinish in 2012, before snaring two straight titles.
NU is eyeing to become the third school in the 20-year old competition to win three cheerdance titles after University of Santo Tomas Salinggawi Dance Troupe and University of the Philippines Pep Squad.
Last season, the Bulldogs were dominant in all aspects – tumbling, stunts, tosses, pyramids and dances – to tally 677.5 points and take home the P240,000 cash prize. The Fighting Maroons, with gender equality as their theme, settled for runner-up honors with 658 points, while the Growling Tigers made a successful return to the podium, finishing third with 625 points on a Chinese-style performance.
UP will perform first, followed by La Salle Animo Squad, Ateneo Blue Babble Battalion, NU, University of the East Pep Squad, Adamson Pep Squad, FEU and UST.
In the group stunts category, the Tamaraws, who dethroned the Bulldogs last year, are seeking to retain the title.
Check last year's UAAP Cheerdance competition photo gallery by clicking the photo below.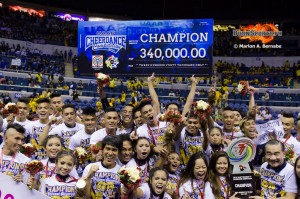 Follow the writer on Twitter: [social link="https://twitter.com/burnsports" icon="62218″]