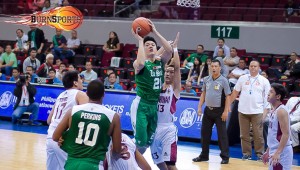 La Salle schooled UP in a blowout game
By Yanzi Eco
August 6, 2014
DLSU took the UP boys to school when they defeated the Maroons 74-53 in their first round match-up at the Araneta Coliseum.
The Green Archers started the game with 17 unanswered points which gave them the boost to route the helpless Fighting Maroons. This is DLSU's 4th straight win after a shaky start earlier in the season. They are now 4-2 while the UP is still winless with 0-6.
Jeron Teng led the Archers with 25 points and 11 rebounds, both season-highs. Spitfire shooting guard Almond Vosotros also added 15 points, 6 rebounds, and 5 assists.
Last year's Rookie of the Year, Kyles Lao led the Fighting Maroons with 13 points, while his teammates Dave Moralde and Henry Asilum has a combined points of 15.
Both teams noticeably has men missing in action during the game. DLSU's big man Arnold Van Opstal sits out alongside starting point guard Thomas Torres due to injuries. On the other hand, UP head coach Rey Madrid has to watch the game outside of the venue due to a two-game suspension given to him by Commissioner Jao for his point-shaving allegations. He will also be out for the next game against Adamson. Ramil Cruz will took charge of the Fighting Maroons until his return.
The scores:
DLSU (74) – Teng 25, Vosotros 15, Perkins 6, N. Torres 6, Rivero 6, Tratter 6, Montalbo 5, Sargent 3, Andrada 2, Bolick 0, Salem 0, Mustre 0.
UP (53) – Lao 13, Moralde 8, Asilum 7, Gallarza 6, Reyes 6, Vito 6, Bederi 3, Harris 2, Amar 1, Gingerich 1, Juruena 0, Lim 0.
Quarterscores: 26-9, 50-24, 64-40, 74-53.
Follow the writer on Twitter: [social link="https://twitter.com/yanziboy_" icon="62218″]