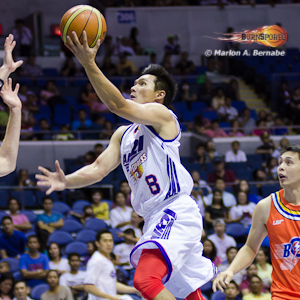 Express squeak past kings now tied for fourth place in standings.
March 26, 2014
QUEZON CITY- Air21 almost made the same mistake as their last game with Meralco by squandering a huge lead against the never-say-die Ginebra team, only to survive due to a miscue by the Kings' reinforcement Leon Rodgers at the end of the ballgame.
It was a 97-95 scoreline which left Ginebra, and its fans, with their heads down in defeat yet again. They now tie Barako Bull in 8th place with a 2-4 record, while Air21 improves to .500 with a 3-3 standing.
Wesley Witherspoon led the Express with a game-high 25 points, including the free throw basket which extended their lead to two points with four ticks remaining in the game.
Mark Caguioa, who ended up with just two points, banged his head on the coliseum hardcourt while Witherspoon was trying to intercept a pass from Rodgers. The incident would cause the Ginebra captain to sit the entirety of the game on the bench.
Air21 was able to mount a double-digit lead, but with the help of Ginebra's second stringers Josh Urbiztondo, JayJayHelterbrand, Mac Baracael and Billy Mamaril, they would trim the advantage to as close as a solitary point, via a play drawn for "Big Mama".
But that was the closest they could go.
Rodgers sat the entire fourth quarter, until Ginebra's coaching staff drew their final play for him, which he ultimately missed.
He still led the Kings with 18 points. Japeth Aguilar ended with 15 and Greg Slaughter chipped in 15 markers.
Joseph Yeo led the local support for the Express with 18 points. Mark Cardona had 15, while Mark Borboran and Aldrech Ramos made 10 each.
Ginebra will play Meralco next on April 2nd, while Air21's next assignment will be San Mig Super Coffee, after the All-Star break, on April 9th.
By: Nikki Ang of TheSportsPanel
Follow the writer on Twitter: [social link="https://twitter.com/TheViceDean" icon="62218″]