2014 JR. NBA/JR. WNBA PHILIPPINES ALL-STARS TO WATCH LIVE NBA GAME IN CHINA
15 Jr. NBA/Jr. WNBA All-Stars and the Jr. NBA & Jr. WNBA Coach of the
Year Winners to Join All-Stars from Indonesia, Malaysia, Thailand and
Vietnam to Attend NBA Global Games Beijing 2014 .
MANILA, Oct. 8, 2014 – The National Basketball Association (NBA) and
Alaska Milk today announced that year's Jr. NBA/Jr. WNBA All-Stars will
travel to China to attend NBA Global Games Beijing 2014 presented by ZTE
featuring the Brooklyn Nets and the Sacramento Kings on Oct. 15 at the
MasterCard Center. The opportunity to watch a live NBA game is part of the
Jr. NBA/Jr. WNBA program's commitment to providing its top participants
with an enriching NBA Experience. Now in its seventh consecutive year,
the program marks another milestone in Alaska Milk's efforts to improve the
health of children in Philippines through the power of nutrition and
sport. The All-Stars will also be joined by 2 local coaches—the Jr. NBA
Coach of the Year and the first-ever Jr. WNBA Coach of the Year winner.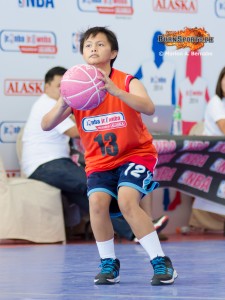 The 2014 Jr. NBA/Jr. WNBA All-Stars are comprised of 10 boys and 5 girls
from Manila, Dagupan, Cebu, Iloilo, Puerto Princesa, and Surigao, and were
chosen competitively out of a pool of more than 2,000 aspiring basketball
champions following the 2014 Jr. NBA/Jr. WNBA Philippines National Training
Camp. The All-Stars from the Philippines will join more than 50 other Jr.
NBA All-Stars from Indonesia, Malaysia, Thailand and Vietnam to attend NBA
Global Games Beijing 2014 presented by ZTE, which concludes the five
preseason games NBA teams will play in four countries this October as part
of NBA Global Games 2014. The All-Stars will also play exhibition games
against local basketball teams and visit historical landmarks as part of
their visit to Beijing.
"Through our partnership with the NBA and its Jr. NBA/Jr. WNBA program, we
are able to holistically address a child's development; nourishment through
the goodness of milk coupled with encouragement through the power of
basketball, for children to lead active, healthy lifestyles," said Wilfred
Steven Uytengsu, President and CEO of Alaska Milk Corporation. "These 15
exceptional Filipino athletes who we are sending to Beijing are the
embodiment of our aspirations to keep children in their winning form."
Over the past years, the Jr. NBA program has successfully fostered healthy
consciousness among children and families through the combination of proper
nutrition and active lifestyle. It continues to be an effective platform
in activating Alaska Milk's Nutrition. Action. Champion.- initiative that
helps fight against the increasing number of overweight and undernourished
children in the country. In the 2011 National Nutrition Survey conducted
by the Food and Nutrition Research Institute (FNRI), it was revealed that 3
out of 10 children aged 5-10 years were underweight while 8 out of 100
children of the same age were overweight, making malnutrition and obesity
two of the most pressing nutritional problems in the Philippines today.
The partnership between Jr. NBA and Alaska Milk first started in 2007
reaching 16 schools in year 1. Since then, the program has reached more
than 1,000 schools, touching the lives of more than 60,000 children,
parents and coaches. The success of the program for the past seven years
in the Philippines as well as the findings of SEANUTS (Southeast Asian
Nutrition Survey) served as inspiration for Alaska Milk's parent company,
Royal FrieslandCampina (FrieslandCampina), to extend the partnership
through a multiyear agreement with the NBA. The partnership also marked
the launch of FrieslandCampina's Drink. Move. Be Strong initiative across
the region in Indonesia, Malaysia Thailand, and Vietnam. With this joint
initiative, and through its local brands, FrieslandCampina encourages
parents and children to drink a glass of milk and have one hour of sports
outdoors; two simple things that when done daily, can help Southeast Asian
children become stronger everyday.
Fans can visit the official event website at
www.jrnba.asia/philippines and follow
us on Facebook at www.facebook.com/jrnbaphilippines for more information on
the Jr. NBA/Jr. WNBA program. For all things NBA, visit www.nba.com.
Photo Gallery
Jr. NBA / Jr. WNBA – SM Mall of Asia Concert Hall
https://www.facebook.com/media/set/?set=a.694999850564466.1073742061.509626865768433&type=3
2014 JR. NBA Philippines Tip-Off
https://www.facebook.com/media/set/?set=a.644005735663878.1073742025.509626865768433&type=3
Follow the writer on Twitter: [social link="https://twitter.com/burnsports" icon="62218″]