UP WINS UAAP BALLROOM COMPETITION #UAAP79
By Maxine Louise Lagman
September 4, 2016
FIGHTING Maroons have dominated cheerdance competitions for the past years and now proves once again that they are the champions when it comes to dancing tournaments.
The University of the Philippines (UP) started on the right foot as they took two championship trophies from the first ever ballroom campetition during the opening ceremonies of UAAP on Saturday at the Quadricentennial Pavilion, University of Santo Tomas.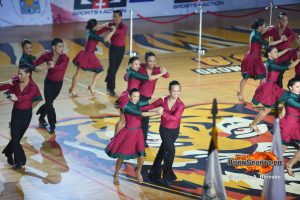 They had an average score of 94.48 and 94.3 for the Latin American and Standard Ballroom Dance Category, respectively.
With an interesting choice of songs like Bon Jovi's "You Give Love A Bad Name" and Journey's "Open Arms", the crowd was left wanting more from their smooth and spellbinding performance.
The UP Ballroom Formation Team practiced their routines for almost three months. Despite the heavy downpour of rain for the past weeks, they continued training, and their hardwork definitely paid off.
"Very overwhelming. Ang sarap sa feeling and nakaka-proud na manalo kami sa UAAP tapos both categories pa," said Nathaniel Malino, UP's representative for the standard ballroom category.
The UST Sinag Ballroom Dance Company took the 1st runner up trophy for both categories as well with a score of 91.66 and 92.1, respectively.
The UE Warrior Danceport Team landed 2nd runner up for the Latin American Dance Category while DLSU Danceport Blitz also won 2nd runner up for the Standard Ballroom Dance Category.
Photo Gallery: Opening Ceremonies & Ballroom Dancing Photos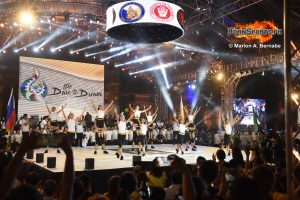 Follow the writer on Twitter: [social link="https://twitter.com/burnsports" icon="62218″]